VIDEO SOLUTION
VOGOLIVE PULSE is a solution dedicated to enriching the experience of your spectators inside the event venue, broadcasting video and audio streams of the show in real time, for a total and unprecedented immersion.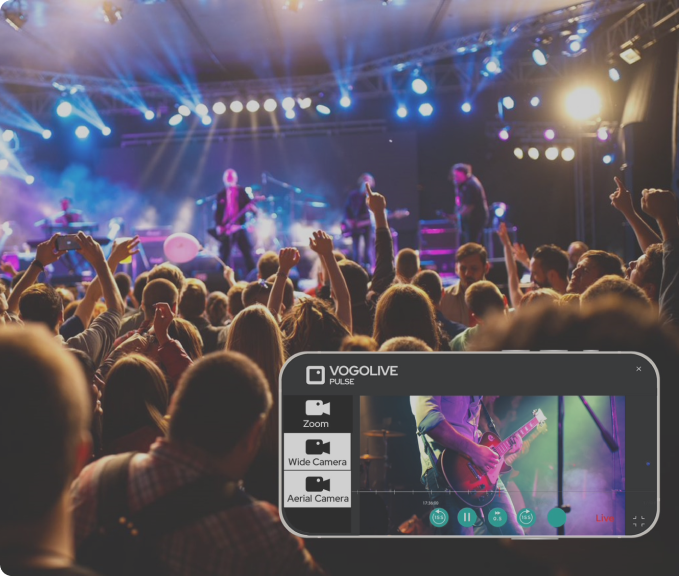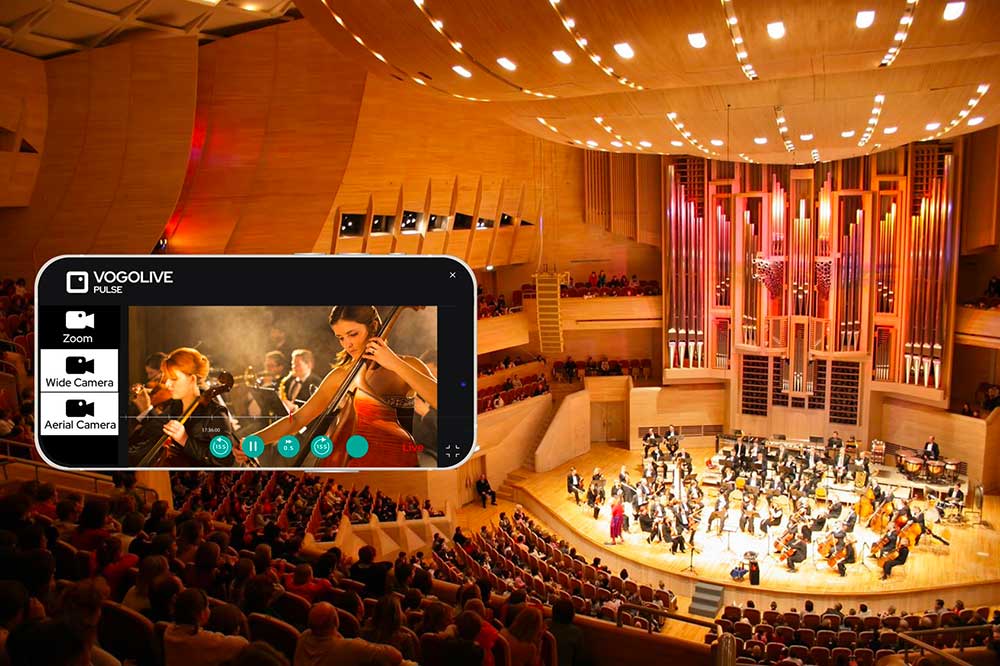 Turn your spectators into "spect'actors
Concert, festival, show, opera, fashion or cultural event?
Offer an innovative experience to on-site spectators, with smartphone access to multiple viewing angles, the ability to zoom in and out, and the chance to review highlights.
Functionality at your smartphone's fingertips
VOGOLIVE PULSE is available as a stand-alone mobile application or integrated into your official app. Dedicated to the general public and VIPs, it offers real-time access to the event's video feeds, for multiple angles on stage. Spectators can plunge right into the heart of the event and enrich their experience, with a close-up of the drummer, guitarist or singer at a concert; the orchestra at an opera; a look at all the bands on a festival stage…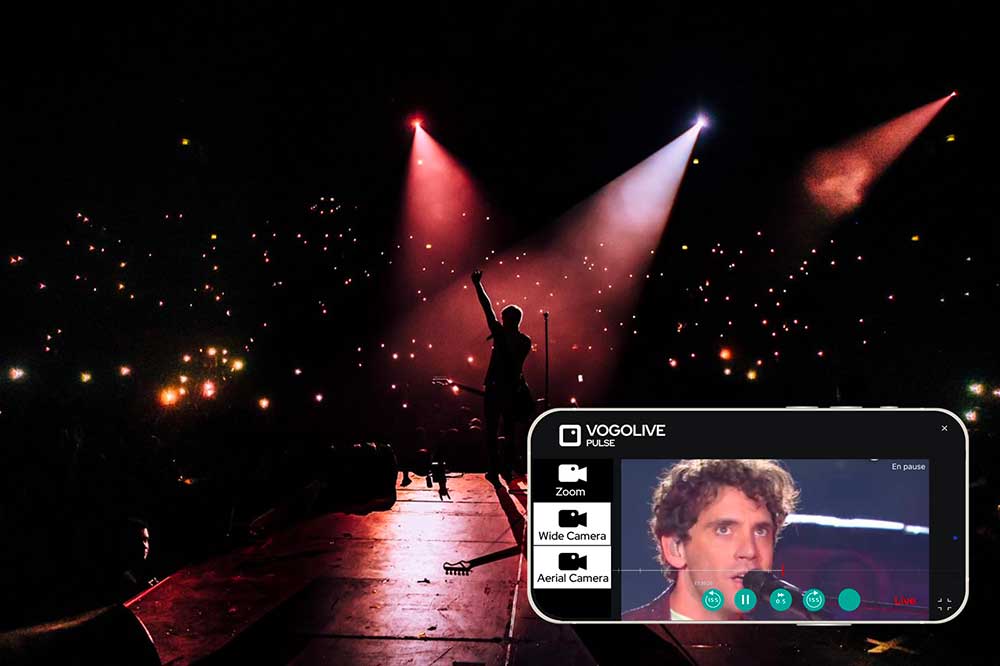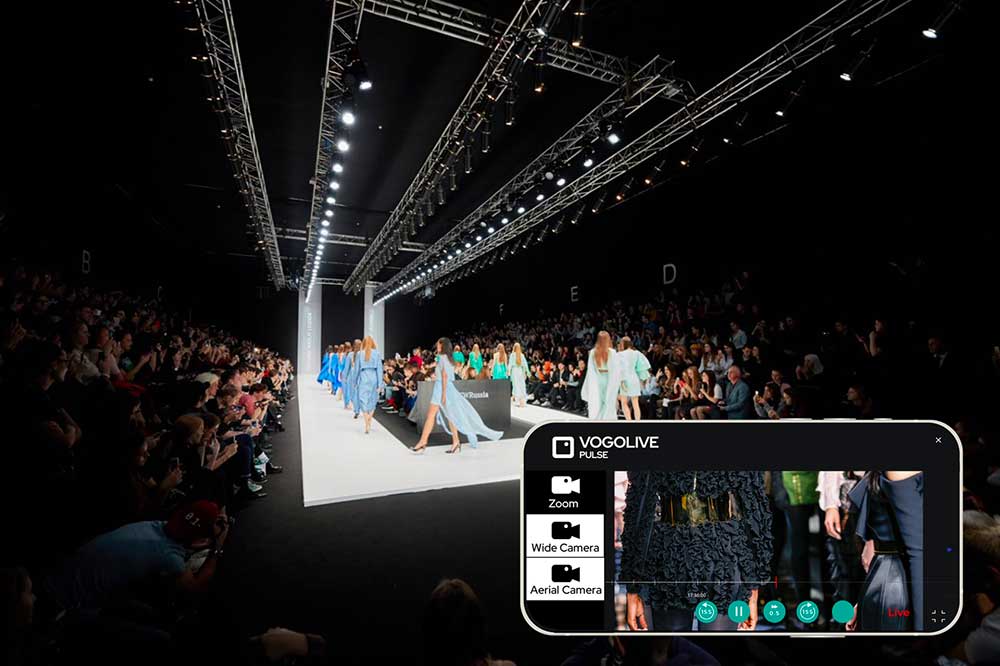 Adaptable
to all events
We take the time to study the specifics of your event with you, and then propose a tailor-made, turnkey solution, so that your fans experience the event in a different way.
What sets us apart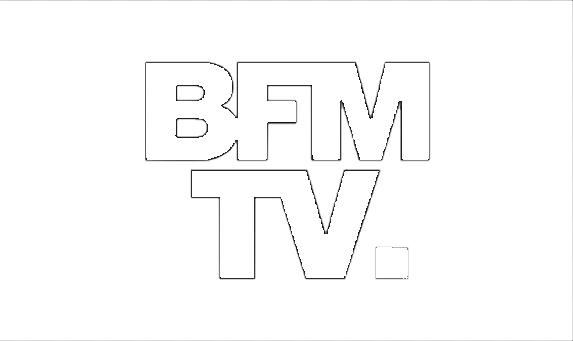 VOGOLIVE PULSE adapts to the specific needs of each sport.
Here are a few examples.
From the bleachers furthest from the stage, the spectator has access to the cameras, which film the singer in close-up, his musicians and the dancers. He experiences the concert as if he were sharing the stage with his favorite band.
Wherever they are in the festival grounds, fans can view what's going on on each stage on their smartphone, so they can choose their favorite artist or follow one of the concerts as a "second screen".
Spectators enjoy views of the orchestra and backstage. Using on-board or on-stage cameras, he can experience the performance alongside the singers. It also accesses the play's subtitles, and why not the program and unpublished content about the play and the artists.
A traditional fashion show consists of no fewer than 150 pieces, which are paraded in just a few minutes. For the spectator, access to the cameras filming the models at various points on the catwalk and to those focusing on accessories, shoes, etc., means that details of cut, material and play of shapes can be revisited, which is very useful for the guests.
Follow all the gymnasts on the apparatus represented, whereas the TV feed only shows one athlete at a time on one apparatus. Zoom in on a specific socket or reception. Access figure notation rules…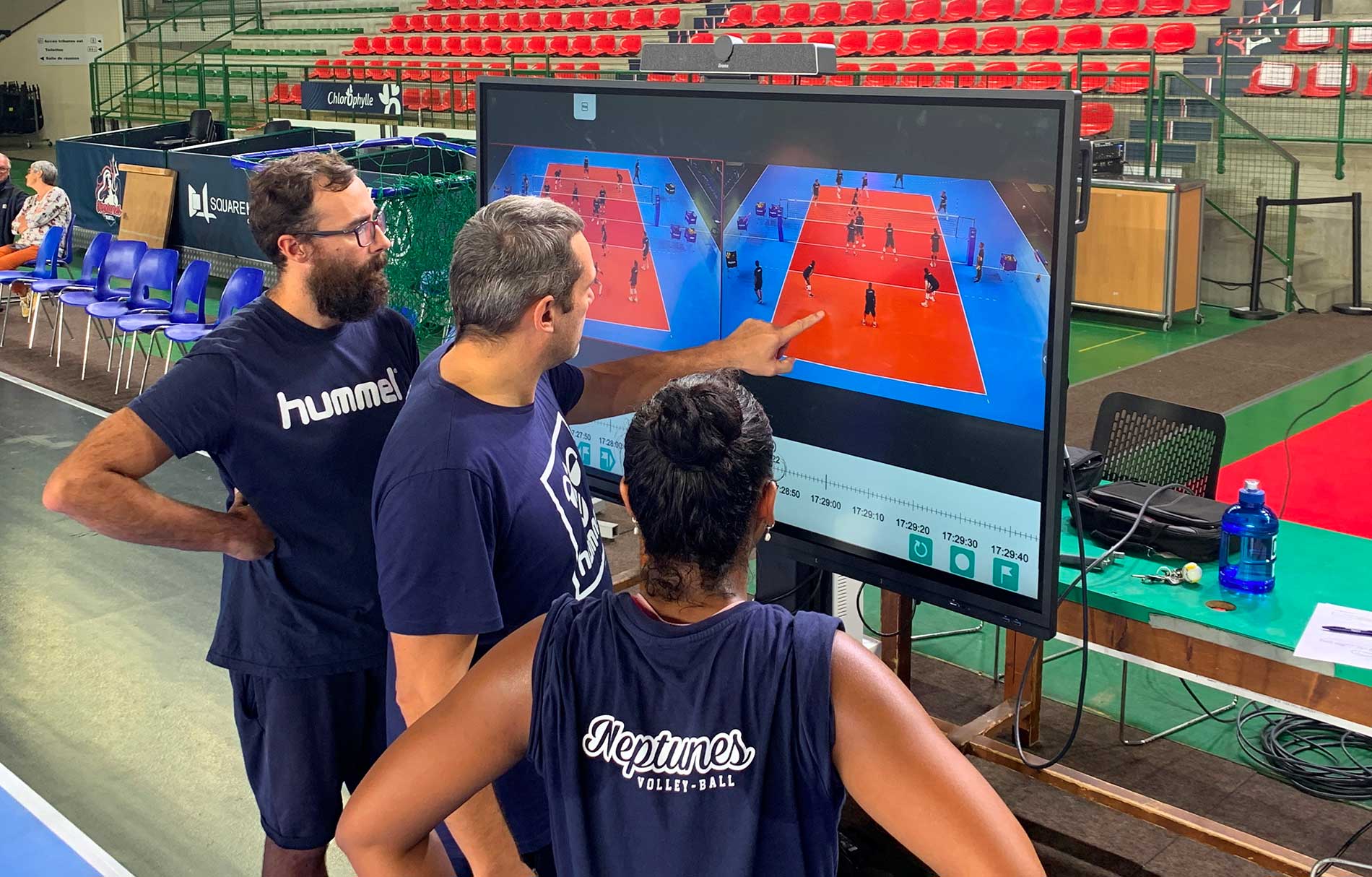 VOGOSCOPE alongside the Nantes Neptunes volleyball and handball teams
Nantes Neptunes share their VOGOSCOPE video solution: volleyball and handball!
Request a demo
of our product?
Our teams are at your disposal to answer any questions you may have.
information, advice, demonstration, quotation.
We'll be happy to help!
Combined video and audio solution for televised sports refereeing
Plug and play multi-camera live control for sports fans
Discover the VOGOLIVE PULSE live camera solution for multi-camera live broadcasts of your live events(concerts, shows, fashion shows…). With our live platform, offer your fans a unique experience by enabling them to follow your event in real time. With VOGOLIVE PULSE, you can manage your live production efficiently and professionally. With our multi-camera solution, you can broadcast from different angles and captivate your audience. Bring your event to life and give your fans an unforgettable experience with VOGOLIVE PULSE.
Live broadcasting solution for an immersive experience
VOGOLIVE PULSE is a real-time broadcast solution for live events such as concerts, fashion shows and live performances. It allows spectators to experience the event in an immersive way, thanks to live video and audio feeds. The VOGOLIVE PULSE platform uses a live camera to capture every angle and key moment, offering a unique experience for every viewer.
Live, multi-camera broadcasts for an exceptional show
With the VOGOLIVE PULSE platform, organizers can offer multi-camera live streaming for their event, capturing every moment and every angle. Thanks to this live broadcast, spectators can feel right at the heart of the action, and enjoy an unforgettable experience. VOGOLIVE PULSE teams can manage the entire video production process, from preparation to live broadcast.
The right solution for every fan event
VOGOLIVE PULSE is a versatile solution that can be used for all types of event. Whether for concerts, fashion shows or live performances, VOGOLIVE PULSE offers an immersive experience for all spectators. Organizers can choose between different broadcast options, such as broadcasting on social networks or on a dedicated platform, to reach a wider audience and reach fans all over the world.
All in all, VOGOLIVE PULSE is the ideal solution for all event organizers wishing to offer their spectators an exceptional, immersive experience. With live and multi-camera streaming, as well as a dedicated live platform for broadcasting, VOGOLIVE PULSE is the perfect solution for concerts, fashion shows and live performances.