The VOGO SPORT solution is not just for the public in a sports venue! It is also suitable for sports professionals; it has already won over many doctors and is now moving towards video refereeing and coaching…  
In developing the VOGO SPORT solution, VOGO has also thought of professionals. Zoom in on this innovative technology that meets real needs in the field…
What is the "Pros" solution?
VOGO SPORT is an innovative "Live & Replay" solution inside sports venues (stadiums, arenas…) giving access to live feeds from cameras filming the event.
The solution has 4 major  functionalities:
Live multicam : Select the camera you want to view
Instant replay : Go back at any time to review an action
Slow-motion : Activate the slow motion either during your replays or in real time.
Zoom : Zoom in and freeze frame
The "Pros" solution embeds "jobs" additional functionalities which optimizing the work of each professional:
Possibility to integrate up to 16 angles of view, in full screen or mosaic mode.
Ability to tag, number and name actions with flags, and to navigate between flags.
Ability to record a sequence
…. All in High Definition (HD)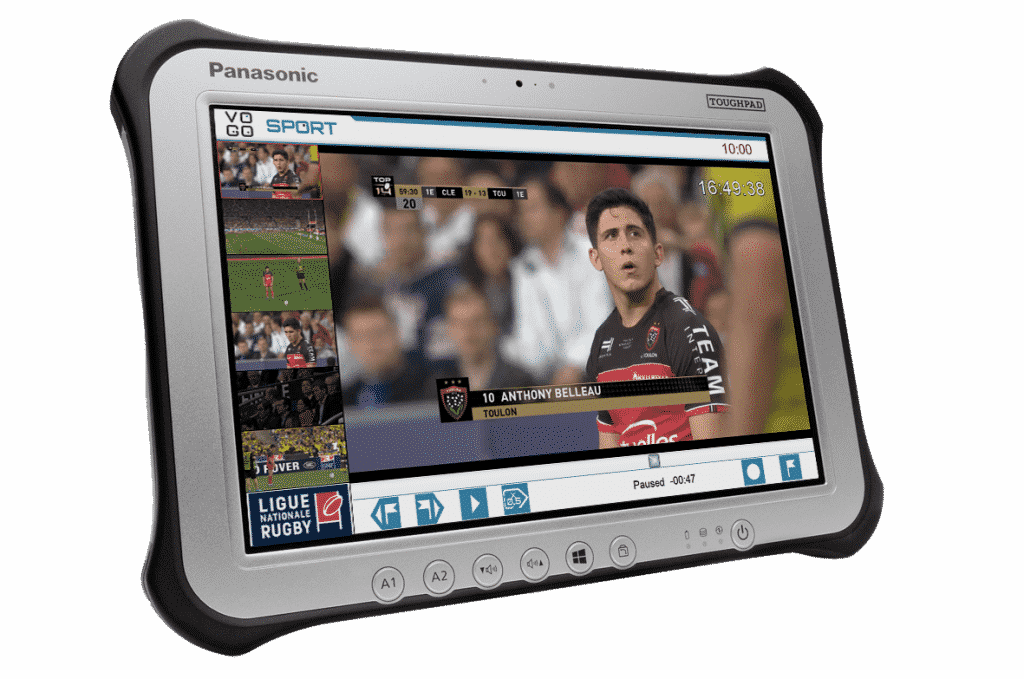 Hard tablet on which is installed
the VOGO SPORT solution for "Pros".
Check out here how our technology work.
What are the benefits of the "Pros" solution?
VOGO SPORT for "Pros" is an intuitive solution that can be used on a touch tablet and/or touch screen. It requires very little training. Professionals are therefore quickly autonomous. In addition, thanks to the use of ergonomic and wireless tablets, professionals can move comfortably on the edge of the field. They therefore gain in mobility.
Who uses the "Pros" solution?
To date, VOGO SPORT is first used by the medical staff of rugby clubs and leagues (French League of Rugby (LNR), European Professional Club Rugby (EPCR), French Federation of Rugby (FFR)…)
Rugby is a technical and tactical sport, but also a sport of impact, and above all a show! Players are permanently exposed to the risk of concussion, which is not always easy to detect. World Rugby foresees that competition organisers make available to clubs a video assistance device on the pitch allowing the review of images of the match during its progress, as a decision support tool within the framework of the concussion protocol (HIA).
Aware of these health issues and in accordance with the regulations on the "Concussion Protocol" (HIA), the National Rugby League  signed a 4-year contract with VOGO in 2017 to cover all Top 14 and Pro D2 matches with its VOGO SPORT solution in the "Pros" version. VOGO has equipped all 30 stadiums in the 1st and 2nd divisions, and covers 480 matches per season. In order to be as effective as possible, each team doctor is assisted by a medical assistant (SVM). The match doctor also has a VOGO SPORT tablet, and the solution is also available on a touch screen in the HIA room.
VOGO is also setting up its medical solution for the Grand Finals and Semi-finals of the Top 14 and Pro D2, notably in stadiums such as the "Matmut Atlantique in Bordeaux", the "Groupama Stadium" in Lyon, the "Vélodrome d'Orange" in Marseille and the "Stade de France" in Paris. Finally, it is regularly used by the European Professional Club Rugby (EPCR) for Champions Cup and Challenge Cup matches played in France and Russia, as well as by the French Rugby Federation (FFR) for "Tournée d'Automne" and "Six Nations" matches.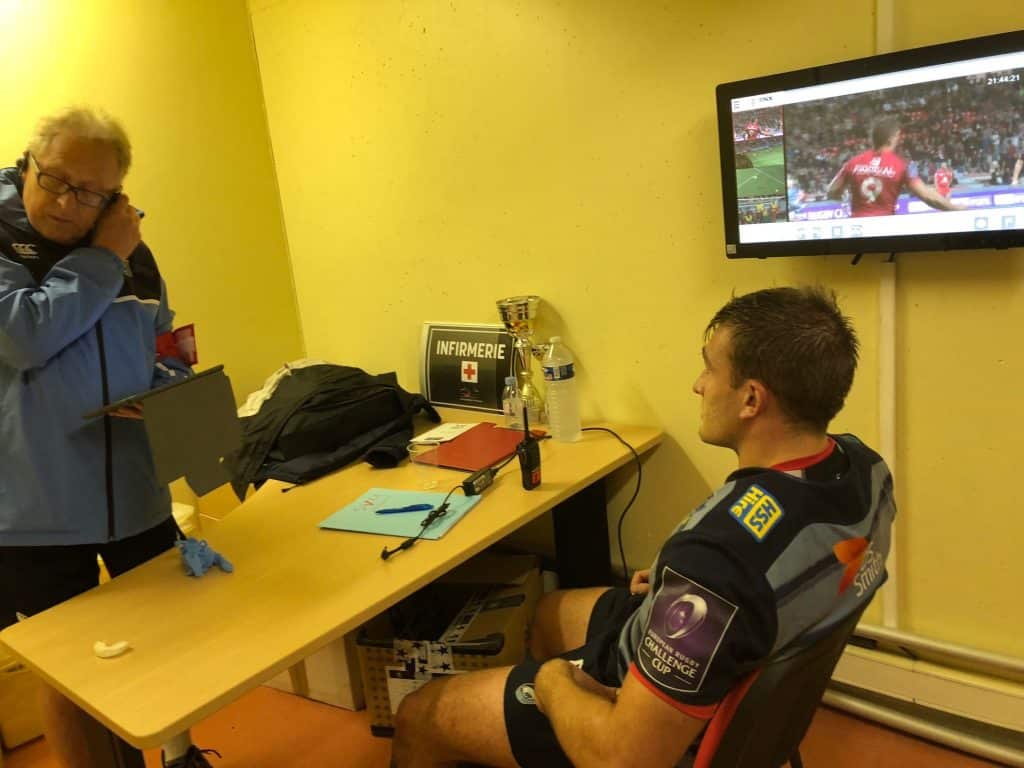 The VOGO SPORT solution can be used on a touch screen,
here in the HIA during an EPCR game.
In football, VOGO is working with FIFA and has implemented the VOGO SPORT "Pros" solution for medical staff and video analysts for the 104 matches of the FIFA U20 World Cup Poland 2019 and FIFA U17 World Cup Brazil 2019.
In addition to medical supervision, VOGO is extending its offer to a broader spectrum of professionals: referees, judges, video analysts, coaches, security, journalists, etc. The solution enables them to get closer to the action, support their judgments, and make fairer decisions. It is in the air of the times and rightly so. The company is already one of the suppliers referenced by FIFA for the video / VAR refereeing solution.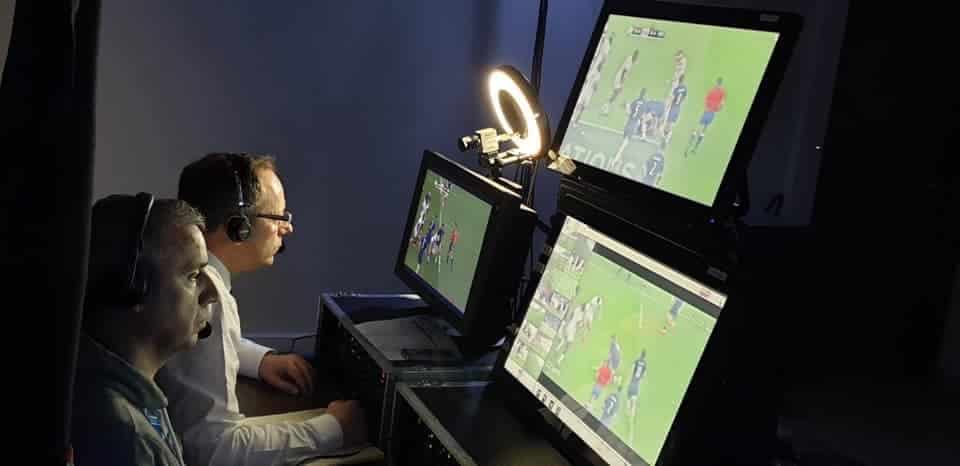 The VOGO SPORT solution used by rugby referees
Video…But also audio solutions with Vokkero®…
With the acquisition of Vokkero® in October 2019, international reference in communication systems for mobile teams in sport, VOGO intends to offer professionals a complementary video offer with VOKKERO's audio solutions. 
The mission of Vokkero® ? To help decision-making in "hostile" environments where team communication is the key to success. With its "Squadra" product range, VOKKERO® has already equipped referees at the last four Football World Cups and in many professional sports leagues around the world. As for coaches, they benefit from a dedicated solution, the "Guardian STAFF".
Therefore, customers, such as federations, leagues, clubs or other types of sports event organizers,  have the choice to be equipped with VOGO's solutions, either with:
A video solution
An audio solution or
A unique and global audio & video solution.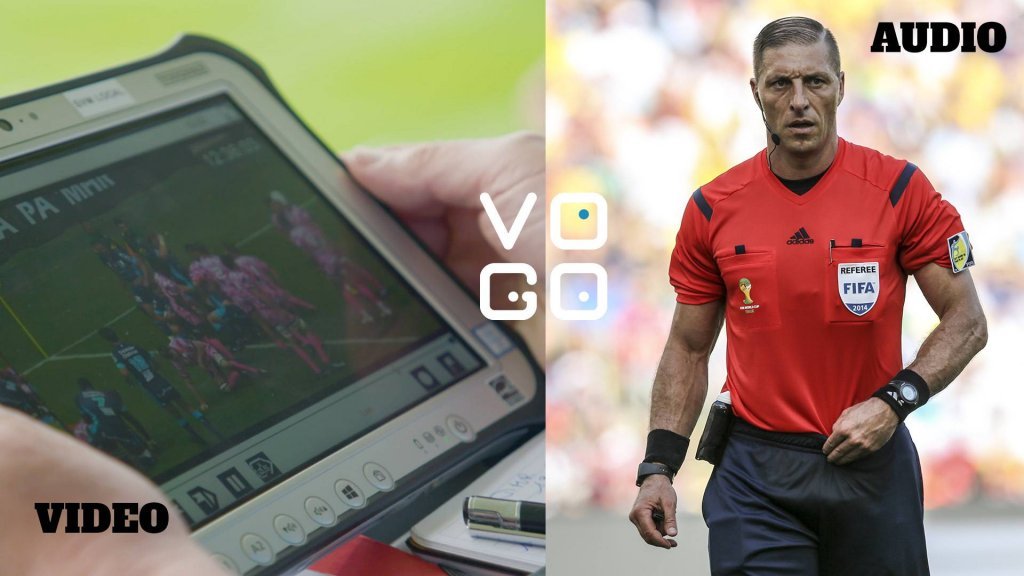 Catégorie :  News