COMBINED SOLUTION
The VOGO STAFF BUNDLE, dedicated to Elite sports' medical teams and staffs, combine our proprietary and patented audio & video solutions, VOGOSPORT STAFF and VOKKERO STAFF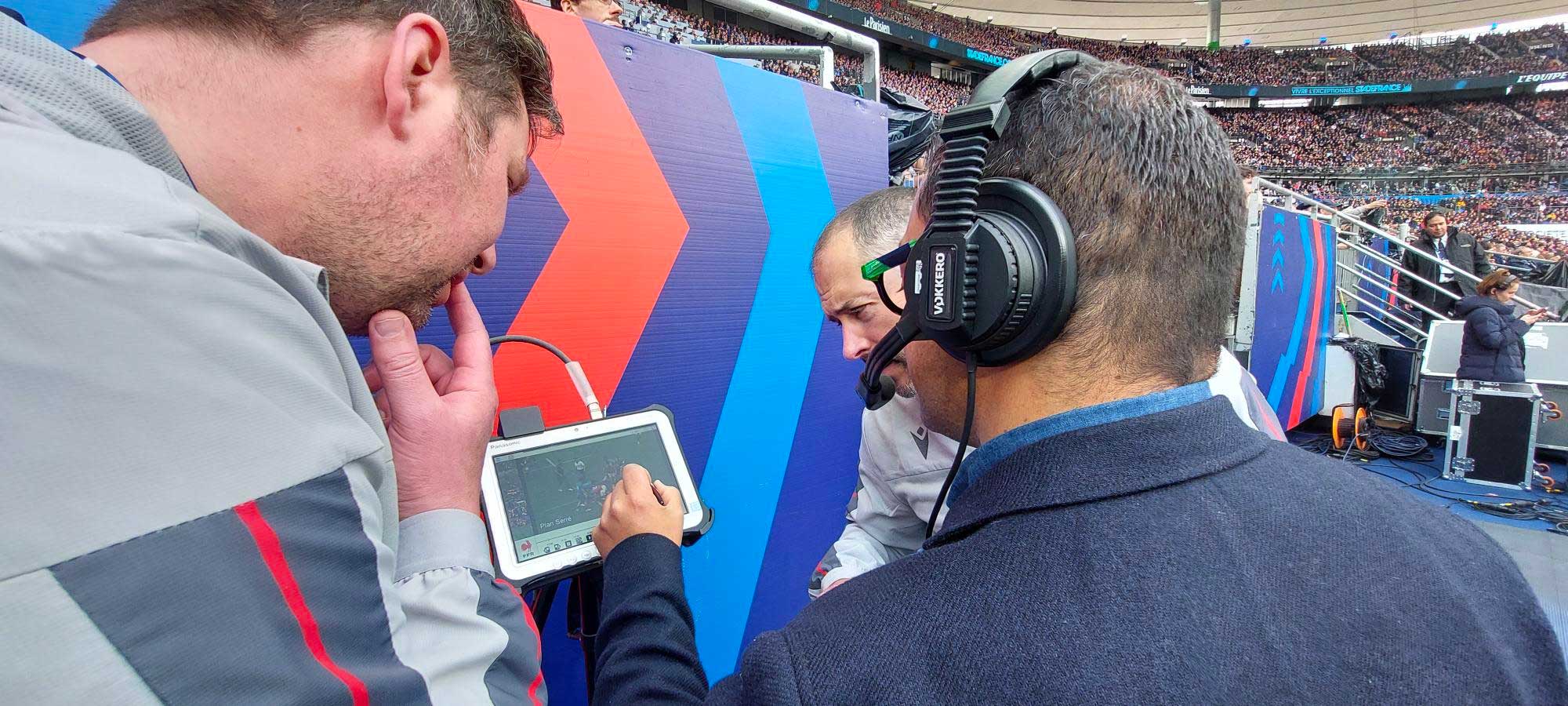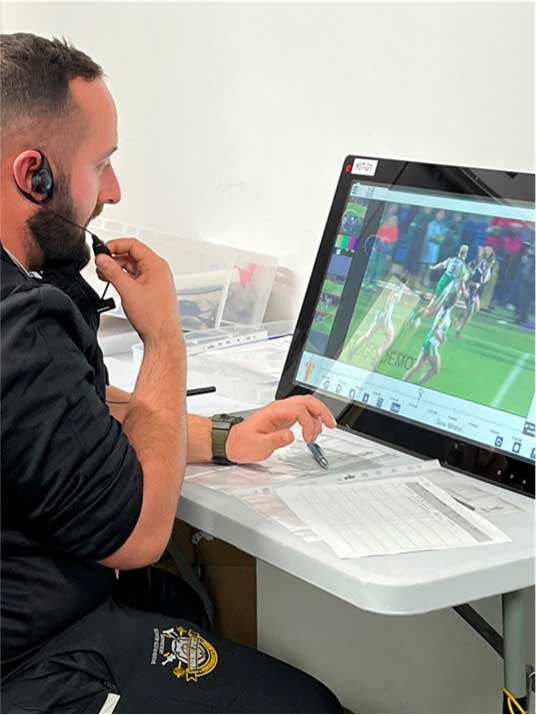 A complete audio and video solution for sports and medical decision-making
Using the same installed solution, medical teams (doctors, physiotherapists, etc.) and sports staff (video analysts, coaches, trainers, etc.) benefit from a turnkey tool that enables them to react more quickly.
Turnkey :
2 proprietary solutions operated by 1 single service provider
An integrated audio and video service that guarantees quality of execution and a single point of contact for medical teams and sports staff.
These solutions are ergonomically designed, enabling users to get to grips with them quickly and with greater autonomy.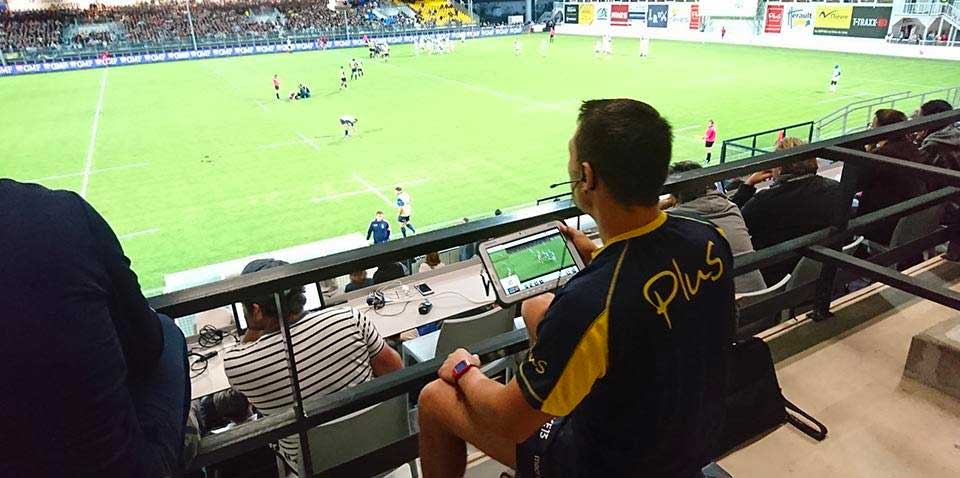 The Bundle: our 2 video/audio solutions combined
in 1 system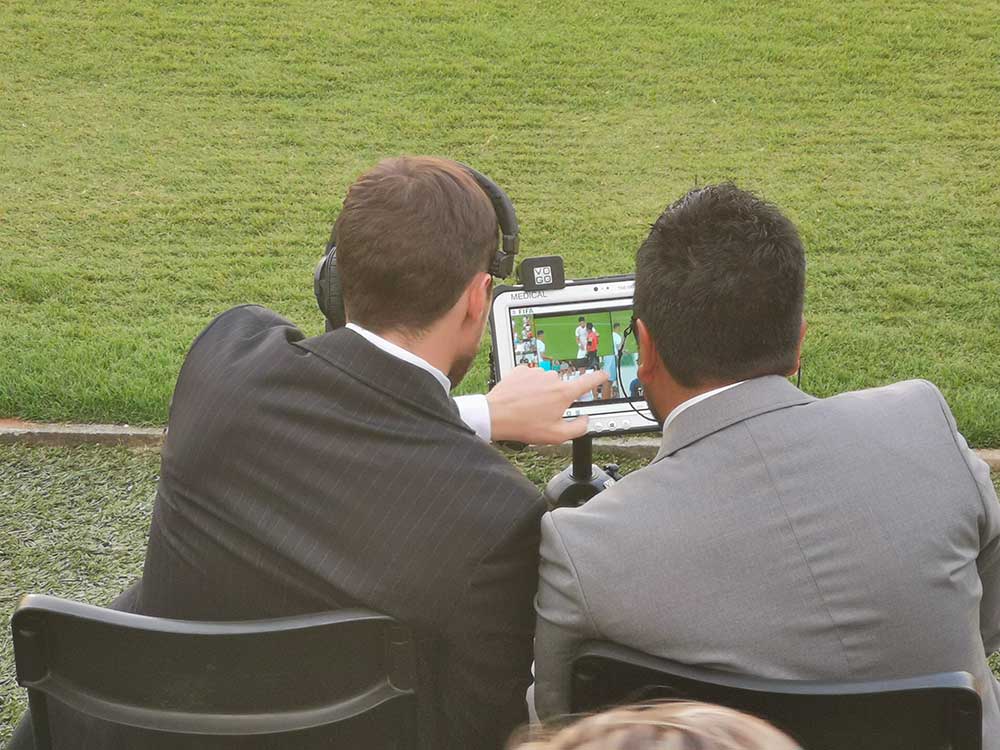 VOGOSPORT STAFF is a live & replay video system dedicated to medical teams and sports staff. Easy to use, intuitive and ergonomic, it provides doctors, trainers, video analysts and other staff with a decision-making tool they can use independently.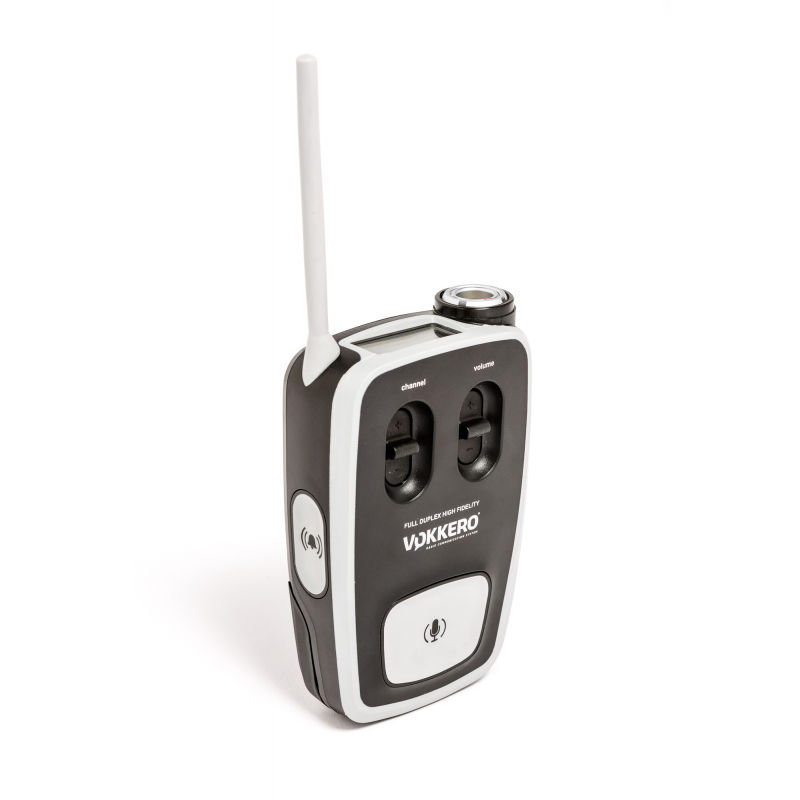 Audio communication solution
dedicated to arbitration
The VOKKERO STAFF is a radio terminal specifically designed for technical teams in sport: coaches, trainers, medical teams, video analysts, etc.
How does it work?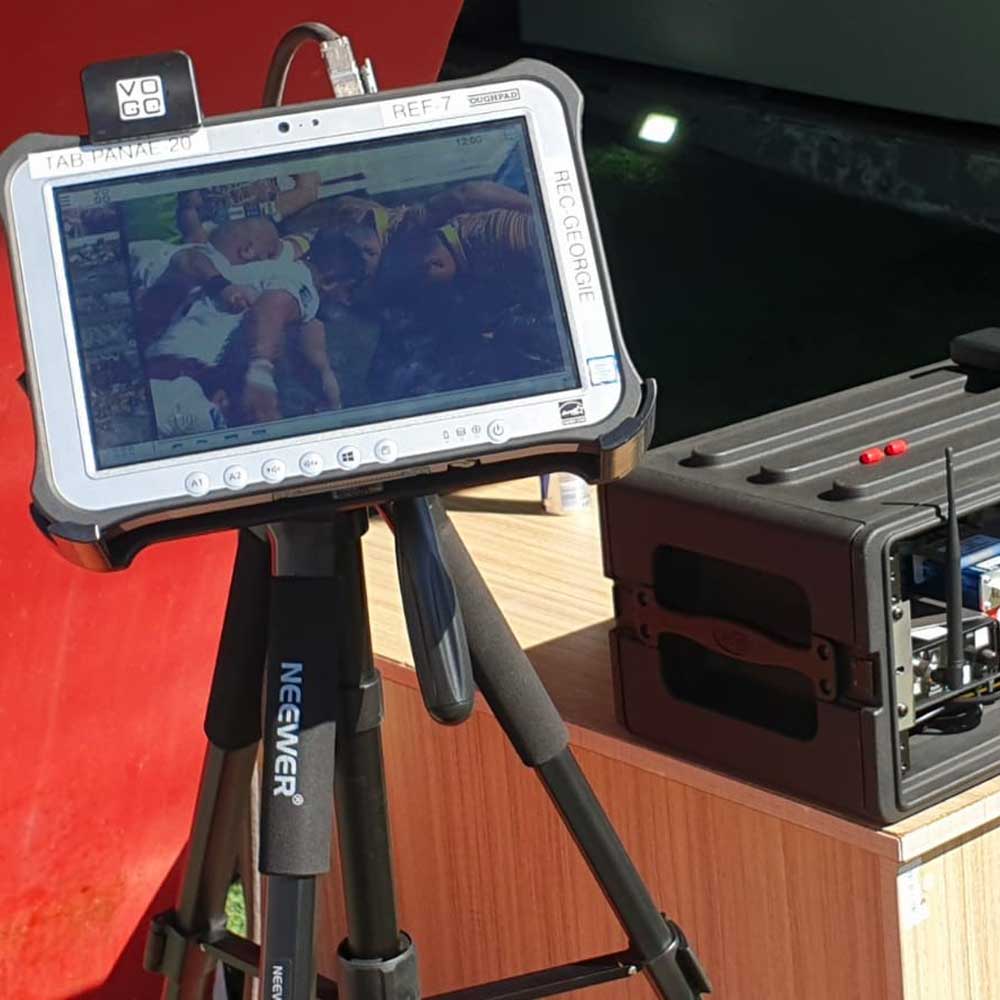 First, the VOGO server retrieves the video footages from the TV cameras. These streams can then be made available on various media: hardened tablets, touchscreens set up on pitch-side or in a dedicated room, all equipped with VOGOSPORT STAFF software.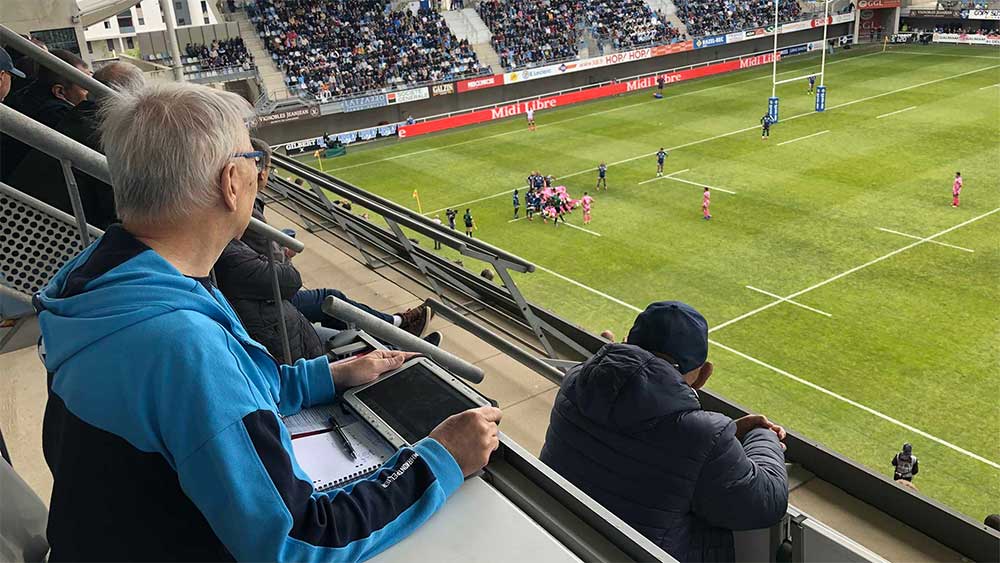 The VOGO STAFF BUNDLE is the perfect tool to support physicians in their roles of medical supervision, injury diagnosis and suspicion, and concussion protocol (HIA). The solution's video and audio features have many advantages. On the one hand, they enable better visualization of shocks, injuries and players' reactions, and on the other, quick and clear communication between doctors. The solution enables better management and anticipation of injuries.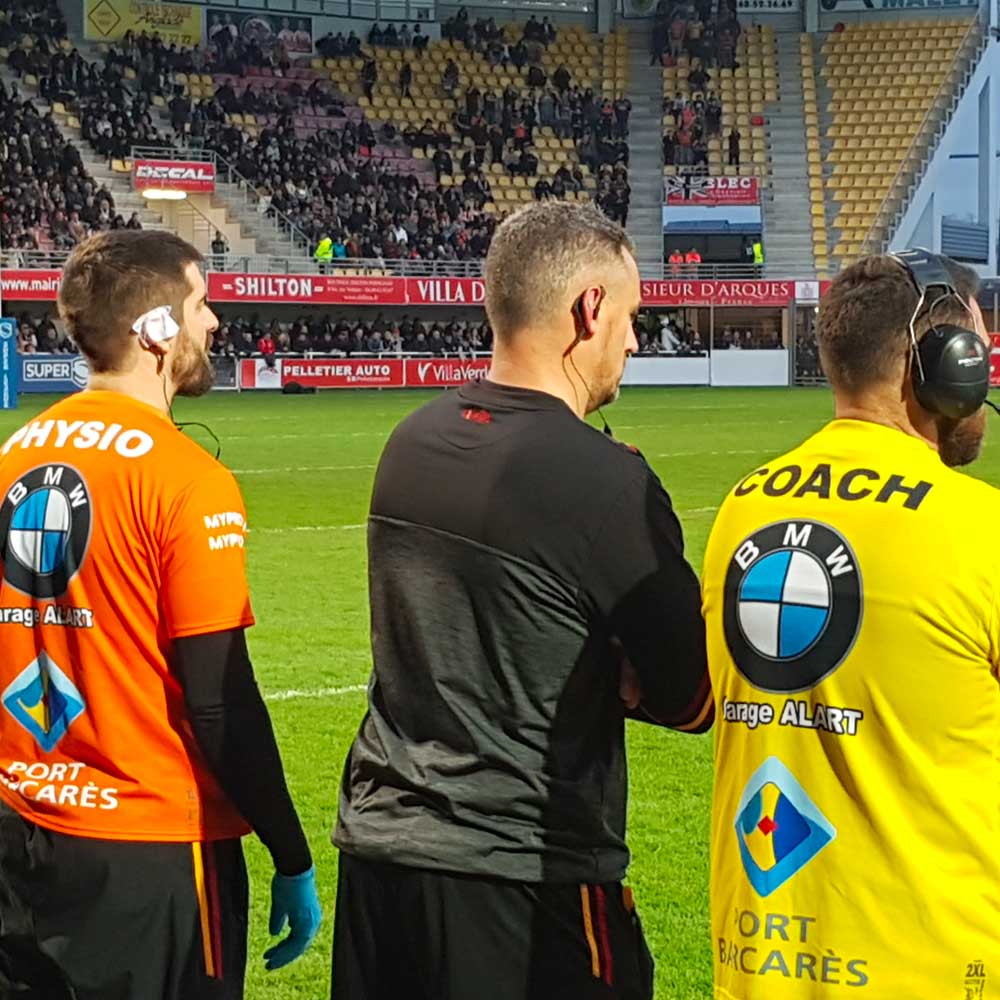 Then, the video solution is coupled with an audio solution, the VOKKERO STAFF, which offers hands-free, instantaneous and secure communication between the various teams of sports and/or medical staff.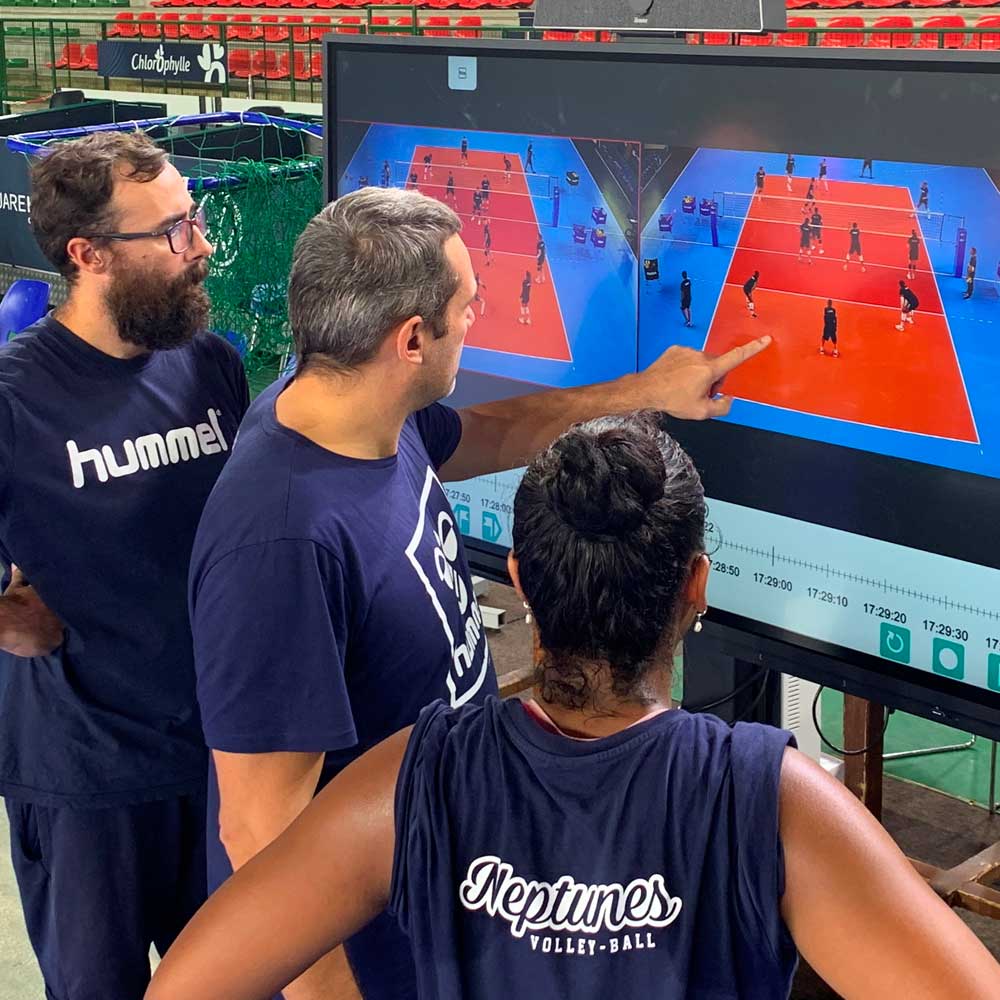 If the sporting event is not televised, it is possible to benefit from the VOGO STAFF QUICK BUNDLE solution, which includes the installation of our own cameras. Sports and medical staff will be able to benefit from the combined audio and video solution. VOGO STAFF BUNDLE adapts to
to the specific features of each sport.
Here are a few examples.
VOGO STAFF BUNDLE for coahces and medics on COCACAF competitions, in media tribune and on pitch-side.
Equipment of match doctors with a touch tablet or touch screen at the edge of the pitch, combined with a touch screen in the HIA room. Medical staff communicate via VOKKERO STAFF at the edge of the pitch and in the stadium's medical rooms. VOGOSPORT STAFF allows key actions to be tagged and videos to be reviewed during HIA protocols. Video streams are uploaded to a dedicated server for concussion medical follow-up beyond the game.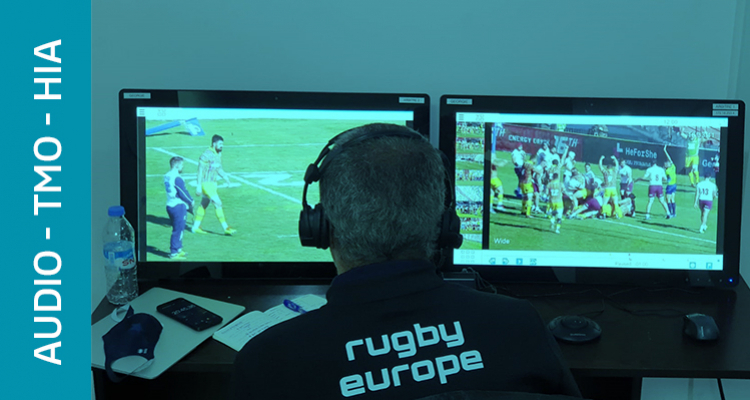 VOGO deploys complete HIA, TMO and audio communication solutions for Rugby Europe
VOGO has been deploying a complete solution combining audio and video technologies to meet the needs of refereeing and medical teams at Rugby Europe Championship matches since 2021.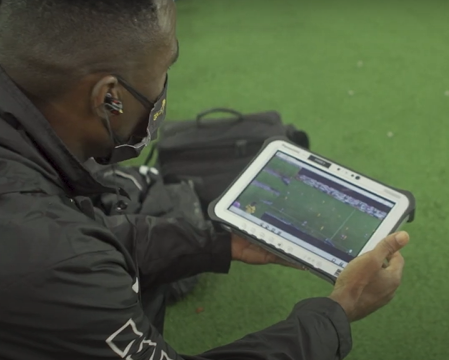 CONCACAF: one of soccer's most famous confederations chooses VOGO for its medical and sports teams
Solutions for sports staff
CONCACAF deploys VOGO STAFF BUNDLE for its coaches and doctors
Request a demo
of our product?
Our teams are at your disposal to answer any questions you may have.
information, advice, demonstration, quotation.
We'll be happy to help!
Combined video and audio solution for televised sports refereeing
The VOGO STAFF BUNDLE is a turnkey solution for sports staff and medical teams, combining the VOGOSPORT STAFF solution with the VOKKERO STAFF. This solution enables you to view live & replay images and communicate optimally in real time, with impeccable audio quality thanks to VOKKERO's full-duplex technology. It also integrates the HIA (Head Injury Assessment) protocol for medical teams to ensure greater player safety.
The VOGO STAFF BUNDLE is a complete audio and video chain, enabling optimum coordination and collaboration between the various staff teams. With this solution, teams can manage games and training sessions with complete peace of mind.
State-of-the-art audio and video communication for top-level sports staff
The VOGO ELITE BUNDLE is the ideal solution for medical and sports staff working in the most demanding environments of top-level sport. This exclusive solution from VOGO is specially designed to meet the unique needs of teams who need to communicate quickly and effectively during sports competitions.
Faultless communication for the medical staff
The VOGO ELITE BUNDLE enables medical teams to stay connected at all times thanks to state-of-the-art audio and video communication . Thanks to this solution, teams can coordinate quickly and efficiently, which is crucial in the event of a medical emergency. The VOGO ELITE BUNDLE 's features enable seamless communication between medical staff, even in the noisiest environments.
The communications solution of choice for professional sports teams
Professional sports staff rely on the VOGO ELITE BUNDLE for real-time audio and video communication . This solution enables team members to stay connected and coordinated, which is essential for team success. With its exceptional radio range and superior audio quality, the VOGO ELITE BUNDLE is the communications solution of choice for professional sports staff.
In short, the VOGO ELITE BUNDLE is the most advanced audio and video communications solution for medical teams and top-level sports staff. With its innovative features and outstanding audio quality, this solution guarantees flawless communication for teams working in the most demanding environments. Trust VOGO to meet your most critical communication needs.