What is VOGO SPORT? 6 key takeaways of the "Live & Replay" video solution
With VOGO SPORT, get closer to the action!
1. VOGO SPORT, "Live & Replay" video solution
VOGO SPORT is a video solution that offers fans and professionals in a sports venue a real-time access, through their smartphone or tablet, to the viewing angles of the cameras filming the event. Via its "Live & Replay" functionalities, VOGO SPORT enriches the way to follow the competition. Its patented technology works independently of the number of users connected in the sporting venue, whether it is in a stadium, an arena or outdoors.
The solution embeds 4 standard functionalities:
Live Multicam: Select the camera you want to view to have another angle of view
Instant replay: Go back to review an action
Slow-motion : Activate the slow-mo mode either during Live or during your replays
Zoom: Zoom in on an action during Live or in Pause Mode and freeze the image
VOGO SPORT "Live & Replay" in images:
2. How does it work technically?
TV cameras are filming inside the venue
Camera feeds are consolidated in the TV production truck.
The VOGO BOX, installed next to the truck, collects the feeds
The VOGO BOX broadcasts the streams in MULTICAST through a WIFI network , either existing or installed by VOGO.
Fans and pros use VOGO SPORT "Live & Replay" on smartphones, tablets and touch screens.
Technical diagram of VOGO SPORT installation:
The plus in its deployment: The VOGO SPORT "Live & Replay" solution is easy to install, economical and requires a light IT infrastructure.
3. How to use VOGO SPORT?
The VOGO SPORT solution is available as a stand-alone app that names "VOGO SPORT" and can be downloaded for free on the iOS or Google Play platforms. The system can also be integrated as a "Live & Replay" module within clubs or official organizer's app (SDK).
VOGO SPORT is very easy to use. Here is a short tutorial to show you how easy it is! The following video show you the 4 major features of the solution.
The advantages of using VOGO SPORT?
An unrivalled smooth ergonomy
A patented technology that provides the same connectivity regardless of the number of simultaneous users in the sports arena.
Its interface is intuitive, simple and international. No translation is necessary.
What's more: Integrated into the official event app, VOGO SPORT "Live & Replay" boosts its use.
4. Who use the "Live & Replay" VOGO SPORT solution?
For fans: VOGO SPORT

enriches the spectator's experience.

 The solution is an innovative and modern way to follow and experience the event. Fans choose what action or specific moment to review and from which angle of view. It's a bit like "TV going into the stadium", combining the emotion of live action with the immersive side of VOGO SPORT, or the spectator who becomes his own director.
Additional features for fans with enriched and exclusive content: Interviews, match sheets, live statistics, branded content, highlights, in-app purchases…
Herewith an example with VOGO SPORT "fans" at Tennis Open Sud de France Arena in 2019:
VIP animations:

VOGO SPORT is a new innovative tool to liven up hospitality areas.
VOGO installs a large touch screen in a VIP lounge of the sports venue, equipped with the VOGO SPORT solution. The device allows to organise half-time and post-match entertainment: An expert (journalist, former player, coach, etc.) "redoes" the match for the VIP guests by using VOGO SPORT  viewing angles, slow-motion and freeze frames.
It is a real opportunity for the organizer to propose innovative levers of visibility to its partner brands and to offer an exclusive moment to the VIP guests.
Discover the animation organized by the French Football Federation (FFF) during France-Moldova at the Stade de France venue on 14 November 2019 in Paris.
https://youtu.be/LJ8Ft04xSJI
For professionals:

VOGO SPORT is a video solution that offers analysis and decision support tools for various jobs: Referees/Assistant referees/VAR, judges, doctors/medical assistants (diagnosis), video analysts, coaches, journalists… And brings them greater mobility, autonomy and efficiency in their respective functions.
Additional features for professionals: Mosaic mode (up to 16 streams), tags, frame-by-frame view, recording and export to a dedicated server.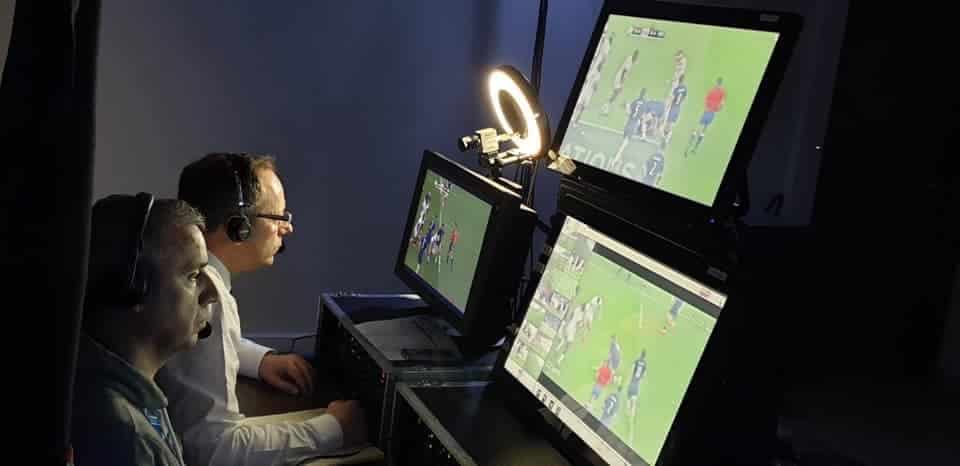 5. Benefits for the event organizer
VOGO SPORT contributes to enriching the fan experience and brings innovative decision support tools to all sport staff: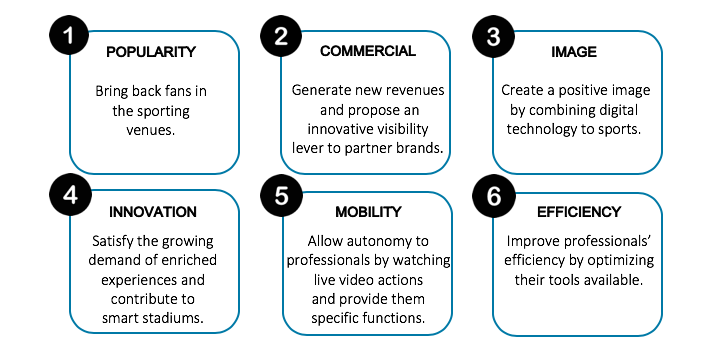 6. VOGO SPORT "Live & Replay" : For all  sports
VOGO has covered close to 2.000 events in 24 sports disciplines with its VOGO SPORT video solution!
Interested in our VOGO SPORT solution? Contact us at contact@vogo.fr . We will be pleased to provide you more info and  help you set up our system for your events.
Catégorie : News